NZ National Gambling Study
The National Gambling Study (NGS) is the first New Zealand population representative longitudinal study into gambling, health, lifestyles, and attitudes about gambling. The NGS started in 2012 with a randomly selected national sample of 6,251 people aged 18 years and older living in private households, and surveyed face-to-face with computer assistance.

The National Survey of Lotteries, Gaming and Betting Activities
The surveys included questions on leisure activities and gambling participation, past gambling and recent gambling behaviour change, problem gambling, life events, attitudes towards gambling, mental health, substance use/misuse, health conditions, social connectedness, level of deprivation and demographics.
Participants remaining in the study were re-surveyed in 2013, 2014 and 2015. In 2018, 50 participants took part in interviews to help us to understand why and how people change their gambling behaviours.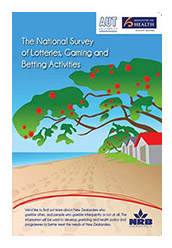 Download the survey questionnaires:
Download the reports on the National Gambling Study
For data access or other enquiries go to the "Accessing micro level data" page on the Ministry of Health's gambling pages.
Project details
Project partner organisation:
Current researchers, at AUT:
Dr Maria Bellringer
Dr Nick Garrett
Dr Giulia Lowe
Project funded by: